Tech-tip How to re-enable VMware Integration Plugin on Firefox 53.x
After latest Mozilla Firefox updates, some integrations suddenly stopped working. Thinking about vCloud Director and vSphere Web client <= 6.0, the use of VMware Integration Plugin is still mandatory to connect via VMRC or upload ISO images.
After many google searches and after a full diving in Firefox about:config, I found the switches to handle for re-enabling the integration with many old plugins (java included).
The procedure:
type about:config in the url
insert new boolean parameter plugin.load_flash_only set to false
change plugin.load_appdir_plugins to true
restart Firefox

After restarting the old plugin menu will reappear near the url bar:

Obviously re-enable all VMware* plugins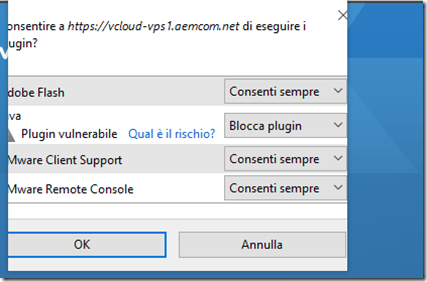 and after reload you'll see the integration back again!
Enjoy and consider the vCD and vSphere upgrade to latest editions! Thanks to Jaska for helping me during the search!