CloudFieldDay 17: Protecting SaaS data with HYCU
CloudFiledDay 17 is in the books. As a TechFieldDay delegate, I got the pleasure to attend the presentations made by HYCU, Morpheus, RackN, Zerto, Couchbase, and JetstreamSoft. And after these wonderful days spent in Boston (MA), it's time to share my insight.
So first in the row is HYCU (following the presentation schedule)… Let's see in-depth
The company and the solution
HYCU is a revolutionary cloud solution that is capable to address three data protection challenges: Software as a Service, Database as a Service, and Platform as a Service. They "simply" integrate vendor's APIs to gain visibility, export, store, and restore the heterogenous structure of data that are coming from a huge list of providers.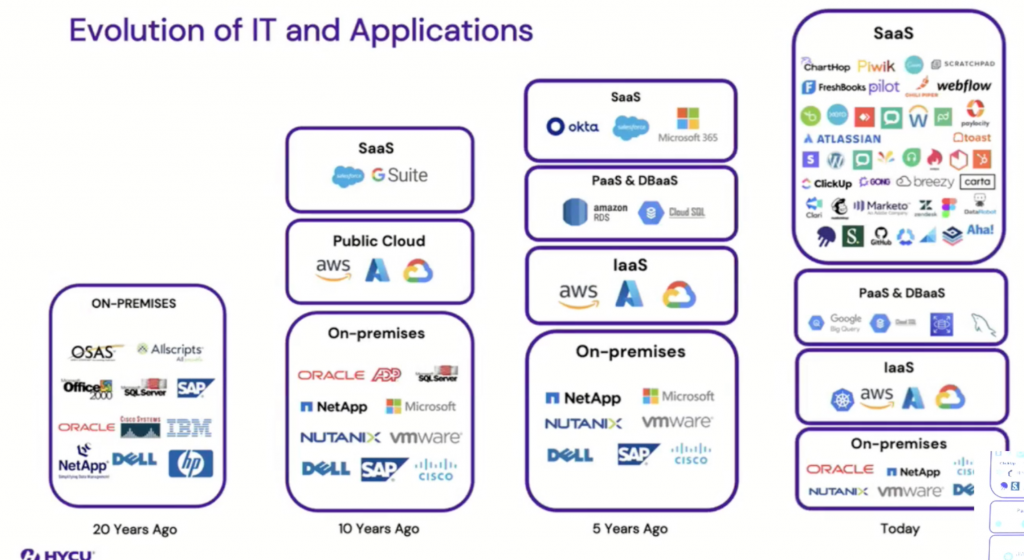 In fact, the SaaS application explosion is a fact: every sized company is"consuming" cloud services for Enterprise applications, utility, and business workflow like Office365, Atlassian suite, Google Services, Bamboo, and more.. and more and more… just check the picture on the left.
For sure this amount of data coming from every part of "the cloud" can become their data protection, not a straightforward process.
The integrations, customization policies, and multi-cloud adoptions are generating a real data sprawl across several products.
Data protection journey by HYCU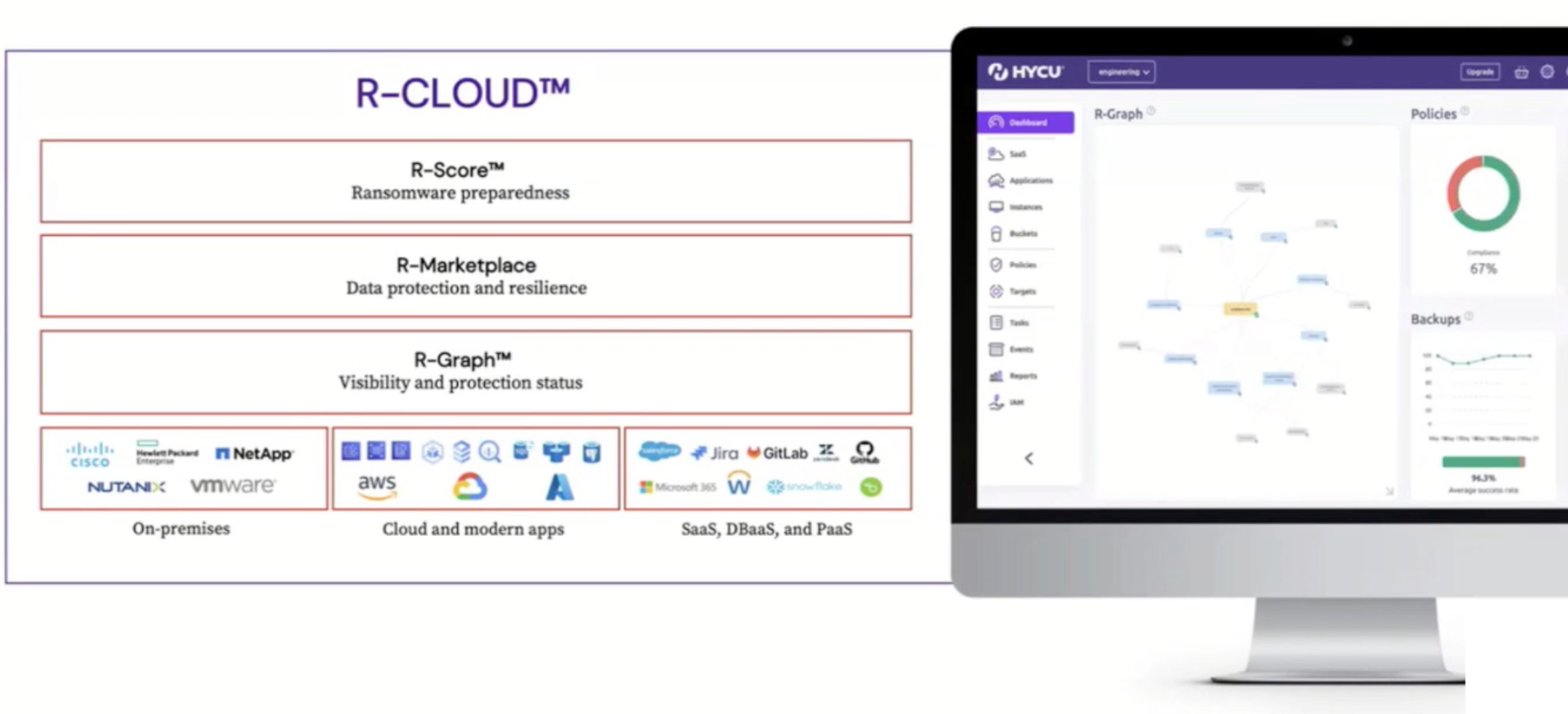 HYCU's data protection journey starts with visibility! This is so important to gather the state of data and give ransomware preparedness.
Then protection for HYCU consists in "exporting" data by using the APIs and safely storing them in your preferred storage.
This sounds reductive… but it isn't: the hard work for HYCU is gathering, building, and letting customers implement using a low code syntax, the workflow for their needs.
The cure for Ransomware…

The reason why many data protection solutions are gaining traction in the security landscape is their ability to detect malicious activities directly in the backup repository.

However, the backup serves as a remediation measure rather than a detection method. In fact, the ransomware problem cannot be solved with simple anti-malware software alone. It requires the interception of certain signals using tools like SIEM or other solutions capable of detecting unwanted file encryption and blocking further compromise.

In summary, the ransomware problem can be addressed in two ways:

Detection: Timeliness is crucial to identify malicious movements in documents and block their propagation.
Remediation: The use of data protection software is essential to ensure the restoration of protected data and guarantee that stored data are never altered. HYCU is working towards offering a robust Ransomware protection solution (https://www.hycu.com/solutions/ransomware-protection), which acts as a form of insurance to safeguard data.
During the demo, they caught my attention with Atlassian Jira. As a Jira user, I can say: this solution promises to be a good tool not only for handling and backup data but also for migration from enterprise to cloud edition (part of a lot of cloud journeys). But there's a question still in my mind: how to address the complexity of the "excessive" customization operated by a lot of enterprises? But for now on let me spend good impressions on this solution and hope to put my hand on it soon!
For further information check the official website: https://www.hycu.com/
Following are some delegates' impressions (and discussions) about HYCU: