TFDx Extra VMworld 2016 Europe – Network Monitoring With PRTG
Web: https://www.it.paessler.com/
What is PRTG? IMHO yet another monitoring tool but with many tricks. With PRTG you could monitoring everything of your infrastructure is compatible with SNMP standard: from physical, virtual, OS and applications that expose SNMP. Let's see the key features in this product:
Ajax web interface
Enterprise console (available for Windows)
Mobile and wearable apps (nice feature)
Easy to configure
Agentless
Supports xflow
HA is integrated with the product
It is possible to scale and collect all data using only a single port
It handles templates, maps and dependencies
It could be integrated with 3rd party software using rest api
it provides reports and whatever to use for documental and procedure purpose (SLA report or whatever)
License model is per sensor (free up to 100 sensor)
Here the presentation at TechFieldDay Extra: https://youtu.be/4EelbA9merM?list=PLinuRwpnsHacldNrm5BjbtzwRkJOLeu1W
Tried for you
I tried it with a Windows 2012 Server using the free edition (up to 100 sensors) that could be download here:  https://www.it.paessler.com/prtg
Guided setup and auto-discovery could be really appreciated to reduce the time to production, and after next-next-next (wizard) installation, the first instance comes up and running in few minutes.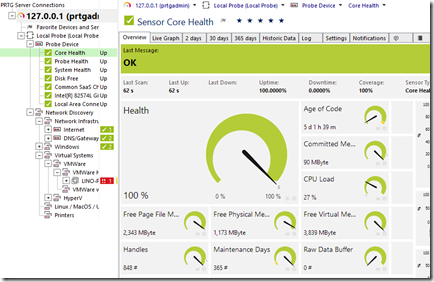 Every elements are organized in a tree view to navigate easily through sensors, groups and devices. Map visualization and templates complete what I think is in the "must to have" for a monitoring product.
Scenario
In premise, off premise or both, it depends on how to deploy but is really interesting that use a single port to communicate via SSL all the data's across the datacenters.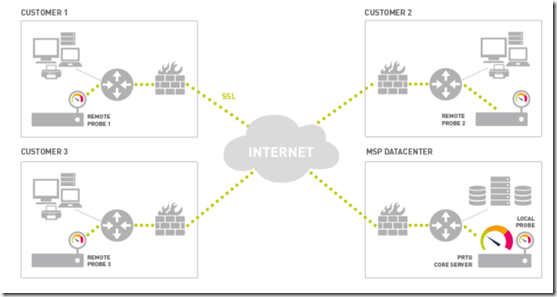 In all the implementation no SQL Server license is required, and it's possible to monitor up to 10K sensor per single installation.
My thoughts
Gardner places this product in the first quadrant, but it could be not the exclusive influencing parameter, because the simplicity for deployment (5-10 minutes), the guided configuration, the auto-discover feature and the ability to scale-out simply adding another instance, could be sufficient for the adoption in a large networked environment.
The continuous rollout could be one of the important added values to be consider for bug fixes and new improvements.
Repeat: auto-discovery uses different methods to gather the devices and sensors and this is what I really appreciate for this product: using simple credentials it is possible to discover and monitor in one simple step.
Last but not least: ajax interface,  mobile and wearable apps are one of the features that brings this product really confortable to use in IT operations.