Upgrading Nakivo to v. 8.0
Just some weeks ago, the Nakivo 7.5 was released with important changes and improvement; just check here for further. As an update from release 7.5 announcement article, the Automated Site Recovery is implemented in the release 8.0 which is live some days ago. Like happens when new version is live, there are a lot of people running the previous version which want to upgrade without destroying the scheduling, inventory and settings.
In all cases Nakivo gives the opportunity to update your current version in an easy and guided mode. If you run an old version an "Update available" notification appears in the top bar, near the main menu buttons: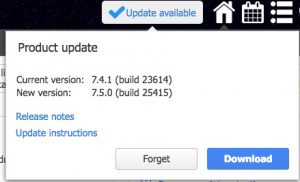 (This example was taken before the launch of version 8.0)
Then just follow the link "Update instructions" and download the update compatible with your installation. in my case Virtual Appliance and Linux Updater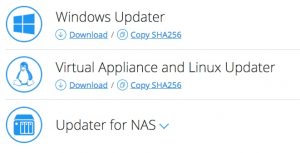 Now it's time to upload the downloaded file using sftp or the file transfer client and protocol suitable for your distribution.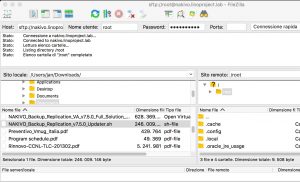 Connect via ssh (or via terminal if you're using windows installation) and launch the executable.

Note: Nakivo VA credentials are: root / QExS-6b%3D
Obviously this operation must be performed during non-activity window (no running backup) and suspending replication or other activities.
After some minutes your Nakivo system is updated.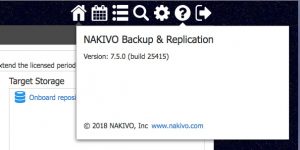 Enjoy
NAKIVO, Inc. is a privately-held company founded in 2012. NAKIVO develops a fast, reliable, and affordable data protection solution for VMware, Hyper-V, and cloud environments.

Download Free Trial here: https://www.nakivo.com/resources/download/trial-download/

This post is sponsored by Nakivo, Inc. Thoughts and experiences come from my own.
Salva
Salva